Scenic Tours
Kauai
West Side

Kauai
North Shore
East Side
Kalapaki/Lihue
South Shore
West Side



Exploring: Island Tours > Kauai > West Side



Kauai - West Side Scenic Tour



On the west side, life seems to move just a little bit more slowly. Maybe the speed slows from the perpetually sunny skies, dry air, the proverbial wide open spaces, and the small towns that set an easy pace. The towns of Hanapepe, Eleele, Kekaha, and Waimea have an old country charm that sets them apart from the rest of the Garden Island. The Waimea Canyon, the Kalalau Valley Lookout (pictured), and Polihale all have an otherwordly divinely-inspired awe.

The West Side is a great place for hiking, camping, boating, bird watching, star searching, and contemplating the meaning of life.

Where does the "West Side" really begin? Lawai and Kalaheo definitely have a pastoral air, for the homes perched on the hillsides have sweeping views of former cane fields, new coffee groves, and the towns below. Cattle graze in pastures that wrap over and around knolls and gullies. From vantage points in Kalaheo, past old sugar cane fields and sugar mills, you'll see the endless ocean and the misty profiles of Lehua and Niihau, privately-owned tiny islands located 12 miles off Kauai's western shore.


Heading toward Eleele and Port Allen, you'll pass fields of coffee bushes, their dark green leaves sparked with fragrant white blossoms or with green and red berries, depending on the time of year. Port Allen is home to the marina where most of the ocean sightseeing and fishing boat tours on the island originate.

Hanapepe, self-proclaimed as "the biggest little town" on Kauai, is a sleepy hamlet that once bustled with military personnel and plantation workers. Now, interesting little shops, boutiques, galleries, and restaurants with hours that vary with the day sprinkle the main street. Here, you will also discover the swinging footbridge over the Hanapepe River which made a cameo appearance in the film "The Thorn Birds." Just passed Hanapepe, you will find that often overlooked wonderful west-side beach at Salt Pond Beach Park (pictured). The"Salt" part of its name derives from the nearby ancient Hawaii salt beds, once the most productive in the Hawaiian Islands.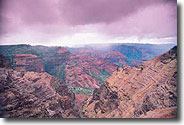 Waimea is the gateway to Waimea Canyon (pictured), the awe-inspiring, breath-taking "Grand Canyon of the Pacific," as Mark Twain dubbed it. The canyon is one mile wide, 10 miles long, and over 3,600 feet in depth. The deep canyon gashes in the landscape look like the claw marks of some immense prehistoric creature. The play of light and shadow throughout the day on the colorful striated layers of rock is extraordinary. A fun pastime is to stand at one of the Waimea Canyon overlooks and watch the reaction of visitor after visitor, as their jaws drop, and they become first speechless and then breathless as they witness this spectacle of nature for the first time, realizing that words fail them and that there must be a God.


Beyond Waimea is the town of Kekaha, the last outpost on the West Side, and the entrance to Polihale (pictured), the western-most beach on Kauai where you will find Barking Sands, so-called because of the sounds your feet make as you walk along the sand dunes. Historians believe that in ancient times this area was heavily populated with grass hut villages stretching along the western coast.

A Navy base called the Pacific Missile Range Facility now houses the last man-made structures on the West Side. From here on, the terrain is nothing but miles and miles of pristine coastline and shimmering white sand beaches where the sand dunes can rise up to 100 feet high. Though Polihale is a favorite beach for locals, there is no lifeguard on duty. Special care must be taken, as the surf is known for its extremely dangerous undertow and varied and unpredictable rip currents.

If you time your trip just right, you can watch the sunset on the West Side as it melts into the sea over the forbidden island of Niihau, just 12 miles away and light years into the spectacular.

Kauai Hawaii Vacation providers:
Accommodations | Activities | Dining | Entertainment | Health & Fitness | Meetings & Conventions | Real Estate | Shopping | Travel Services | Transportation | Weddings